Top 10 Tips To Consider For Hotel Booking In Odisha
Posted by Admin on November, 04, 2020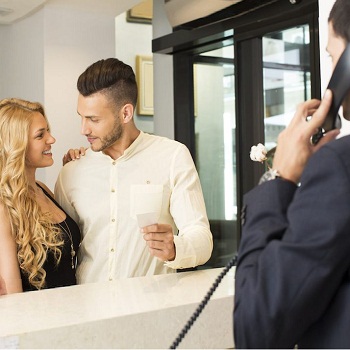 Odisha is a happening place. It has a lot of things to offer to travellers. As the number of people who visit Odisha every year is substantial, the number of hotels in this city is fairly large. Choosing the one that is most appropriate for you may not be an easy job.

Since attractive deals are offered by many hotels, Odisha hotel booking may be an overwhelming task because getting in touch with various hotels and finding out the prices of the rooms is a big hassle. Moreover, chances are high that you will have many options to choose from.

You may be a frequent traveller or someone who is not used to hotel booking in Odisha, but there are always a few things to keep in mind when finding a hotel room.

1. Choose a hotel by location and distance.
It's simple and appropriate to locate hotels on the internet. This is the way that allows you to search hotels by distance from your destination.

2. Look for star ratings
Star ratings are a good sign of the quality and services you can anticipate a hotel to offer. The two-star hotel suggests hotel with basic accommodation, and the five stars will be luxury with spas, swimming pools, and a higher staff-to-guest ratio.

3. Book online.
The best prices and discounts are available online and with so much information available it's easy to find an ultimate hotel at the right price in the right place.

4. Read reviews.
It is advised to book recommended hotels. Comments by former guests are a decent indication and guide to follow in picking hotels to stay in Odisha.

5. The cheapest isn't always the best option.
It's enticing to book a low-cost hotel you can find. However, if you want a good experience it may be worth paying a little more.

6. Compare rates.
Many websites give you the option for price comparison. They give you information at your fingertips to find good value compared to other similar hotels.

7. Book with a renowned brand.
You know what you will get when checking in as they have standardised the brand. This is the experience that you can book with confidence.

8. Check real-time availability in peak seasons.
Check if a hotel is busy in peak season if it's famous then it's probably good.

9. See common photos by customers.
Hotels in Odisha may give a good impression in printed marketing and promotional material as well as descriptions. But a photo clicked by a customer is worth a thousand words.

10. Find a safe hotel booking online.
Look for the safe browser when proceeding to make your booking and payment. Some sites look after and encode your information, keeping your details safe.
Here are some points to consider while booking hotels in Odisha.
• Stick budget
• Choose the area properly
• Look out for the themed hotels
• Try to book in advance
• Check various websites for offer

Qualities of the best tour operator

• Last-minute availability to make sure that you never miss the chance of booking exciting tours with them.
• 24X7 online support for your convenience.
• Best prices to make sure that you will get the most lucrative deal.


This entry was posted on November, 04, 2020 at 16 : 19 pm and is filed under Hotel Booking. You can follow any responses to this entry through the RSS 2.0 feed. You can leave a response from your own site.