Benefits Of Hiring A Domestic Tour Operator
Posted by Admin on December, 19, 2019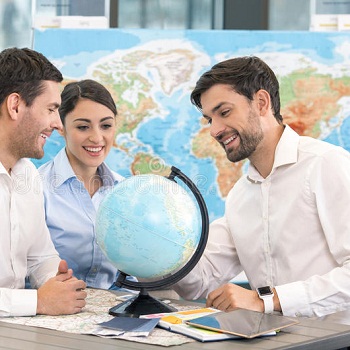 Tour operators are guides for your travel. Domestic tour operators can offer you expert guidance in your domestic tours i.e. when you wish to travel within your country. Such tours may include a visit to the Puri sea beach or Sailashree Vihar, tour operators can arrange every help in your trip.
Whenever you wish to travel, you look forward to a comfortable, memorable and relaxing vacation. But planning the trip on your own after doing your regular office jobs could be a bit stressful. Thus you may take the expert help for a professional domestic travel agent to prepare a perfect tour plan for you in a quick time. This may help you while you are planning a last moment trip.
Read below to understand how a tour operator in Bhubaneswar can arrange a perfect vacation for you. Find the benefits of hiring a travel guide.
1. Find no enough time to plan your vacation?
When you are planning a travel on your own you need to majorly rely on the internet. You need to verify certain aspects which go into planning the trip. First, you need to search a suitable and interesting destination for holidaying. Then there is hotel booking. And, finally you need to book tickets of bus, train or flight to reach the spot. A travel agent efficiently handles all these responsibilities quickly and successfully.
2. Need a professional to understand your travel requirement?
Whenever we plan for holidaying t our desired location, we want the best for those days. And, what if there is someone who can arrange everything for you by understanding what you actually want? Travel agents possess huge knowledge base and strong network to give the best to their clients in a quick time. When you are hiring any of the tour operators in Odisha, he will discuss with you about your expectations from the trip and do accordingly.
3. Want expert continued help throughout your travel?
If you are a frequent traveler then you must be aware of the fact that every trip cannot go well from all aspects. A tour operator in Sailashree Vihar can guide you about the right time to visit a particular place so that no chances arise for cancellation of tickets.
4. Are you not sure where to go?
Travel agents are a perfect guide to tell you where to do for solving your travel purpose like if you want to enjoy a serene nature and send some relaxing holidays with your partner or you want an adventurous trek through the hills. They have every solution!
5. Worrying of your tour budget?
Did it ever happen to you that you planned a trip on your own and after coming back from it you found that it could be possible in a much better budget? This is where hiring a domestic tour operator for all over India travel can be a cost-saving option for you.
There are many other benefits too of hiring domestic tour operator for all over India. Try this option on your next tour and see the difference!
This entry was posted on December, 19, 2019 at 11 : 08 am and is filed under Travel Agent. You can follow any responses to this entry through the RSS 2.0 feed. You can leave a response from your own site.