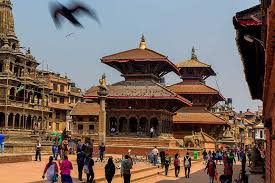 Nepal, the neighbouring country of India, shares huge cultural ties with Bhubaneswar, Odisha and it is having a noteworthy increase in the amount of tourist flow from the city in the recent times. Bhubaneswar (Odisha) and Nepal share a solid socio-cultural relationship as a huge number of Hindu visitors aim to visit the range of popular temples of Nepal every year. Nepal being the birthplace of Gautam Budhha, a majority of the Buddhists of Odisha is deeply connected with it.
If you are planning a visit to Nepal, you can get a range of Nepal tour packages from Bhubaneswar starting from budget to luxury.

How to reach?
Actually it depends on your budget for travel and which transport you do favour for.
1. By air – There is no direct flight between Bhubaneswar and Nepal. Take a flight to Kathmandu airport via Kolkata or New Delhi. It will be a long flight tour which takes around 12 hours.
2. By train – You can board the Puri-Jaynagar Express and make a day' journey to Jaynagar, which is 4 kms away from the border of India and Nepal. You can also reach Siliguri or New Jalpaiguri via train route from Bhubaneswar. It will be an 18-24 hours' journey. After reaching there, take a bus to reach Panitanki, the cross point of Nepal. After, Kakarbhitta town of Nepal.
3. By bus – After reaching Siliguri or New Jalpaiguri station, you can ride on a bus towards Kakarbhitta town, Nepal.
There are many other border crossings. You can contact a tour operator to guide you in a more professional way.
Attractions in Nepal:
1. Kathmandu - For several hundred decades, Kathmandu, the capital of Nepal remains as one of the three rival majestic cities other than Patan and Bhaktapur. All of these lie close to each other and probably runs together these days. You must not miss visiting Durbar Square, which is a recognized UNESCO world heritage site. It is the largest palace square of the three royal cities of Nepal.
2. Bhaktapur – another royal city of Nepal. Lies outside Kathmandu on the Tbet route. Mostly Hindus reside here. Visit durbar Square here. The whole city is a certified UNESCO world heritage site.
3. Boudhanath Stupa – this stupa is counted as the largest in the world of its kind. It was built in the 6th century or earlier. It is another UNESCO site. It represents the five attributes of Buddha – sphere, air, fire, water and earth.
4. Pokhara – being surrounded by the highest mountains of the world, Pokhara lies 200 km west of Kathmandu. Trekkers like Pokhara to be considered as the entrance to the Himalayas. Clean air and pleasant climate here attracts major tourists of the country.
5. Chitwan National Park – it reflects another side of the Nepal tourism. Apart frm hiking and trekking through the hills, you will certainly love to spend some time here among the wildlife animals.
Any Nepal tour package from Bhubaneswar will include all the above described attractions and some other popular ones like Swayambhunath, some popular trekking activities and Lumbini. Happy Journey!
This entry was posted on April, 28, 2020 at 15 : 56 pm and is filed under Tour Packages. You can follow any responses to this entry through the RSS 2.0 feed. You can leave a response from your own site.